April 4, 2023
Southeast real estate development group Urban Story Ventures' King Street Station was recently named the Chattanooga Redevelopment of the Year in the 2023 CoStar Impact Awards. In addition, the Chattanooga-based group received multiple CoStar Power Broker awards for the local market earlier this year, including:
2022 Top Leasing Firm, Chattanooga

2022 Top Sales Firm, Chattanooga

2022 Top Office Leasing Broker, Chattanooga – JP Evans

2022 Top Sales Broker, Chattanooga – JP Evans
"Chattanooga continues to be a strong market for business growth, and we're honored to be a part of it. We have a top-notch team, and this recognition speaks to our dedication to meeting commercial real estate needs in the most strategic and creative ways," said JP Evans, director of leasing for Urban Story Ventures.
Evans who received two of the awards was among the group of professionals who closed the highest transaction volume in commercial real estate deals in their respective markets in 2022.
King Street Station was included among winners chosen for their growth, diversification, and ability to overcome unique challenges in their particular markets. The redevelopment revitalized a key area in downtown Chattanooga that's just steps away from historic attractions, entertainment centers, and a bustling retail and restaurant scene.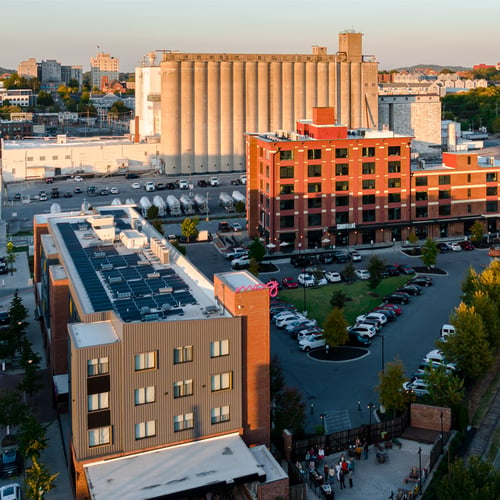 Photo Credit: Jacob Macias, Pinnacle Tour
"The positive community impact, job growth, economic benefits, and new tax revenue realized through the revitalization at King Street paint the perfect picture of who we are and what we do," said Urban Story Ventures President Jimmy White. "From abandoned to fully leased, King Street Station today is a major Chattanooga success story of a transformational adaptive reuse development."
In 2017, the commercial real estate group purchased a 77,000-square-foot abandoned and windowless cold storage facility constructed in the mid-1900s and a dilapidated surface lot on King Street in an area between the vibrant downtown core and revitalized Southside. The two-acre site was redeveloped and now features: a six-story mixed-use office building with several tenants, such as Goodfella's Pizzeria, Wanderlinger Brewing Company, and KCH Transportation, one of the largest logistics and transportation companies in Chattanooga; a Moxy boutique hotel; and onsite parking.
Other tenants in the building represent a variety of industries, such as health care, technology, and special events. Around 400 employees are based in the repurposed storage building today.
A panel of more than 750 industry professionals drawn from each respective market participated in the judging for the 2023 CoStar Impact Awards. The CoStar Impact Awards recognize exemplary commercial real estate transactions and projects completed in 2022 that have significantly influenced neighborhoods or submarkets across 128 major international markets in the United States, Canada, and the United Kingdom. Now in its second year, the awards honored over 400 winners for their CRE transactions across five categories: Lease of the Year, Sale/Acquisition of the Year, Commercial Development of the Year, Multifamily Development of the Year and Redevelopment of the Year. To learn more about the CoStar Impact Awards and review the full list of winners, visit www.costarimpactawards.com/.
The CoStar Power Broker Award program has honored the industry's elite for 23 years.
About Urban Story Ventures
Urban Story Ventures is a Southeast commercial real estate development group based in Chattanooga, Tennessee. Led by Jimmy White, the company's portfolio focuses on mixed-use, office, industrial, and retail sites, reimagined for their highest and best use. Projects from Tennessee to Florida include iconic and historical landmark buildings as well as 100+ acre redevelopments like the Bend. Full-service capabilities include property management, billing, leasing, security, landscaping, and maintenance. For more information, visit urbanstoryventures.com.
About CoStar Group, Inc.
CoStar Group, Inc. (NASDAQ: CSGP) is the leading provider of commercial real estate information, analytics and online marketplaces. Founded in 1987, CoStar conducts expansive, ongoing research to produce and maintain the largest and most comprehensive database of commercial real estate information. Our suite of online services enables clients to analyze, interpret and gain unmatched insight on commercial property values, market conditions and current availabilities. STR provides premium data benchmarking, analytics and marketplace insights for the global hospitality sector. Ten-X provides a leading platform for conducting commercial real estate online auctions and negotiated bids. LoopNet is the most heavily trafficked commercial real estate marketplace online. Apartments.com, ApartmentFinder.com, ForRent.com, ApartmentHomeLiving.com, Westside Rentals, AFTER55.com, CorporateHousing.com, ForRentUniversity.com and Apartamentos.com form the premier online apartment resource for renters seeking great apartment homes and provide property managers and owners a proven platform for marketing their properties. Homesnap is an industry-leading online and mobile software platform that provides user-friendly applications to optimize residential real estate agent workflow and reinforce the agent-client relationship. Homes.com offers real estate professionals advertising and marketing services for residential properties. CoStar Group's websites attract tens of millions of unique monthly visitors. Headquartered in Washington, DC, CoStar maintains offices throughout the U.S. and in Europe, Canada and Asia with a staff of approximately 4,900 worldwide, including the industry's largest professional research organization. For more information, visit www.costargroup.com.