Event Details
When: Friday, November 4 | 11 a.m. - 3.pm.

Where: Family Justice Center, 5705 Uptain Rd.
Thank you for your interest in the Chattanooga Midtown Hiring Fair! These employers have immediate openings for a variety of positions, representing entry-level to mid- and lead-level and ranging part-time to full-time. Many employers require a high school diploma or equivalent, and some require a Bachelor's degree or higher education.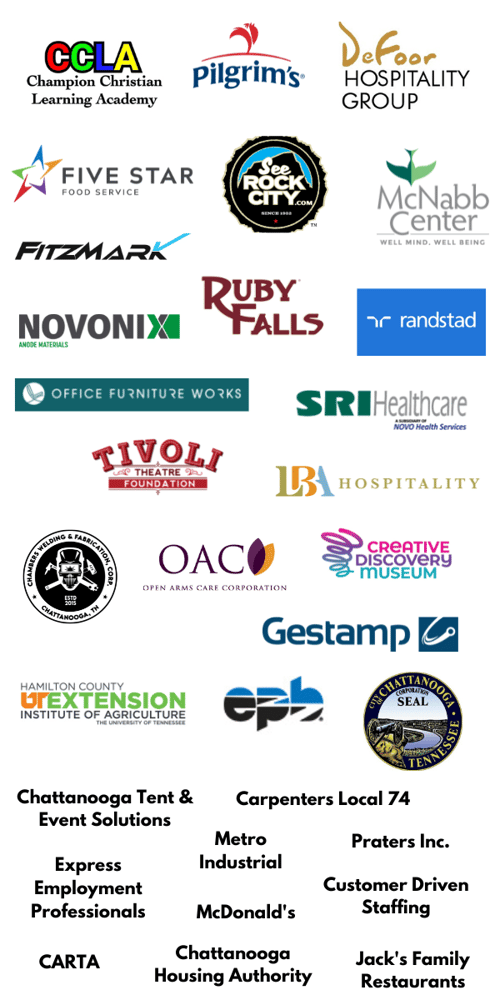 Also, Food Truck Friday will be on site with a live remote by US 101! (5704 Marlin Rd.)

Job Seekers Are Encouraged to RSVP!
If you are looking for a job and are planning to attend, please fill out this brief form.
List of Example Job Openings:
Accounting Clerk
Admissions Team Member
Apprentices
Assemblers
Assistant Manager
Assistant Teacher
Assistant Teacher/Floater
Bar Service
Basketball Flooring Associate (Travel)
Bus Operator
Business Development Representative
Carpenter Superintendent
Carrier Sales Representative
Case Manager
Castle Cafe Team Member
CDL Driver
CNC Machine Operator & MIG and TIG Welder
Crew Team Member
Customer Service and Sales Advisor
Department Leader
Direct Support Professional
EPB General Application App
Evening Shift Manager
Event Delivery and Support
F&B Supervisor
Facilities and Grounds
Field Fabricator
Food Service Worker
Forklift Operator
Front Desk Agent
Furnace Operator
Furniture Installation Technician
Guest Service Representative
Hospitality
Human Resources Generalist
Inspector/Off Stackers
Journeyman Carpenter
Lead Maintenance Tech
Light Industrial
LPN
Machine Operator
Maintenance
Mental Health Tech
Mill Operator
Mueller-Buyer and Recruiter
Museum Educator
Outreach Educator
Part-Time Front-Line Partners
Part-time Para-transit Operator
Portables Basketball Flooring Associate
Pouch & Seal
Press Technicians
Production Associate
Production/ Assembly Line Worker
Programs Educator
Registered Nurse
Room Attendants
Route Merchandiser
Sales Manager
Saw Operator
Security
Shift Manager
Shipper
Skilled Trades
Team Leaders
Technical Solutions Advisor
Tent Technician
Vehicle Attendant
Warehouse Associate
Welder